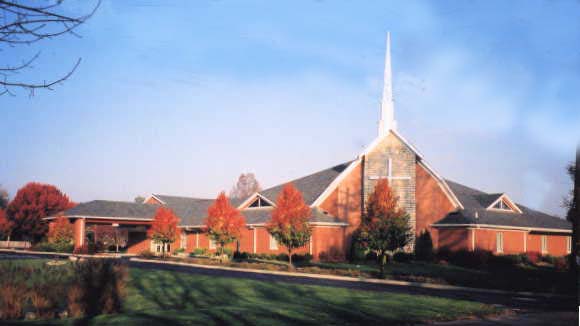 Beginnings:
The history of Reynoldsburg Baptist Church began in September 1957 with four families, Williams, Bevers, LeMaster, and Wilcoxon. Public worship was first conducted on November 17, 1957, in the Wilcoxon home, with David Dorr as speaker. On June 1, 1958, Reverend T. Edwin Boling became pastor, with a membership of 12 persons. By September 7, 1958, membership had reached 25 as the church was formally organized. For 18 months, the new congregation met for Sunday School and worship in the French Run Elementary School in the Brookside area of Reynoldsburg and for Sunday evening worship in the Parkview Presbyterian Church.
Building:
The original three-acre property at 887 Rosehill Road was purchased on December 31, 1958. Construction of the first unit was begun July 1, 1959, with most of the labor, except for the masonry work, voluntarily provided by the members. The building was dedicated on March 6, 1960. By this time the membership had climbed to 99 with an average Sunday School attendance of 140 in January 1960.
Continued growth made construction of additional space imperative. Once again the members willingly offered their labor, making possible the two-story educational unit which was dedicated on February 3, 1963.
In September, 1996, several structural problems were discovered in the sanctuary and services were moved to the fellowship hall. The church approved a plan to repair the existing sanctuary and build a new worship center with ground breaking to take place in Spring, 1998. Ground-breaking for the new 600 seat Worship Center took place on Sunday, March 1, 1998. Once again much of the work was done by volunteer labor by non-members as well as members of our own congregation.
The first worship service in the new sanctuary took place on March 21, 1999, with approximately 300 in attendance. Dedication of the new Worship Center took place on May 23, 1999.
Missions:
During the life of Reynoldsburg Baptist Church, several missions have been started: One in Gahanna (now First Baptist Church of Gahanna), a second mission was started in Summit Station, now the Summit Baptist Church, and after surveying and holding Vacation Bible School in the Brookside community, first services of the Brookside Mission (now Brookside Baptist Church) were held in the French Run School, October 15, 1967.
Pastors:
T. Edwin Boling – 1958 – 1965
J. Kenneth Allaby – 1966 – 1975
James E. Taulman – 1976 – 1982
Robert E. Gaultney – 1982-1989
William H. Sims – 1990-1993
Our current pastor, Rev. Steven A. Cavanaugh came in view of a call on March 12, 1995. A call was extended and accepted that same Sunday. On Sunday, April 23, 1995 he came to be our sixth, full-time, senior pastor.
In November 1996 Rev. John H. Rausch began his ministry as our first full time Minister of Music and Youth in November 1996 and served until the fall of 2008. Philip Mollohan began his ministry as Minister of Youth in January 2003 and continued until July 2007. In August 2009 we welcomed Rev. Greg Savage as Associate Pastor.
Since its beginning, Reynoldsburg Baptist Church has voluntarily affiliated with the Metro Columbus Baptist Association, the State Convention of Baptists in Ohio, and the Southern Baptist Convention.